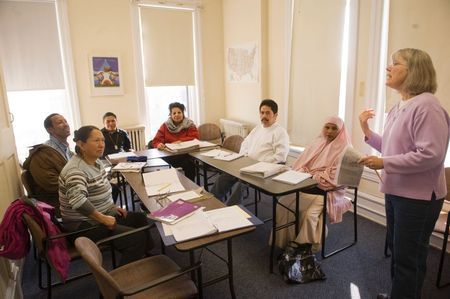 Level 3 Education and Training
12 March 2020
Are you interested in gaining experience and a qualification in teaching adults?
We have limited free spaces available on our "From Learner to Teacher" programme, funded by a Community Grant from the European Social Fund.
This will allow you to gain both a Level 3 qualification, and teaching experience in our regular ESOL groups.
To be eligible for a place, you must be:
Be over 19 in April 2020;
Have the right to live and work in the UK;
 Be unemployed, or economically inactive, in April 2020;
Be able to speak, read and write English at Level 1 (B2) or above; and
Be able to commit to the full programme (see below).
Programme timetable:
March/April 2020 – we will check that you are eligible, including assessing your English, and enrol you as one of our volunteers
April-July 2020 – you will volunteer in our ESOL groups at least once a week for twelve weeks
September 2020 – January 2021 – you will study for the Pearson BTEC Level 3 Award in Education and Training, delivered at St John's Centre by staff from Trafford College Group.
Everyone on the programme will be supported by our Volunteer Coordinator and Learning Coordinator, and other training in Study Skills and ICT may also be available.
If you are interested in joining the programme, please contact the Centre.