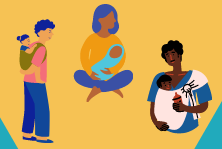 New Parent Peer Support Group
Come along to Chorlton Sling Library's informal session where you can sit inside, drink a cuppa, eat cake & chat to other new parents.
Thursdays 10.30am-12
Aimed primarily at those with non-mobile babies (up to around 9 months).
You'll discover –
You are not the only one who feels like you do
Your baby is not the only one doing that
What's normal in parenting
This is not a structured session, just somewhere to meet other like-minded parents in a non-judgemental setting.
This is a free session, but booking is essential. You only need to book 1 slot per adult, not for your baby. To book, please go to https://bundlebees.as.me/coffeecake