Personalised Watercolour Cards
The Personalised Watercolour Cards course will run on Tuesdays from 12.45-2.45pm, for 5 weeks from 20th April 2021.
The course is free to learners currently claiming income dependent benefits, or earning less than £18,135 a year. For other learners, it will cost £70. All learners will provide their own materials.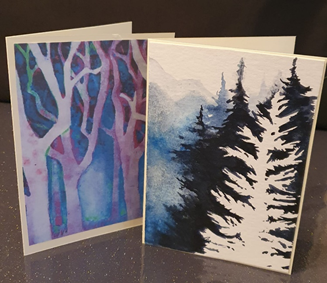 Topics covered:
Week 1 –
Watercolour techniques and mixing colours
Painting Backgrounds and skies
Creating Trees in watercolour
Week 2 and 3 – Step by step landscapes for personalised cards
Week 4 – Step by step contemporary landscapes for personalised cards
Week 5 – From your own image design a landscape personalised card
For more information or to enrol, please call Sandra McLennon on 0161 886 7443 or 07944933959, or email community@tcg.ac.uk.